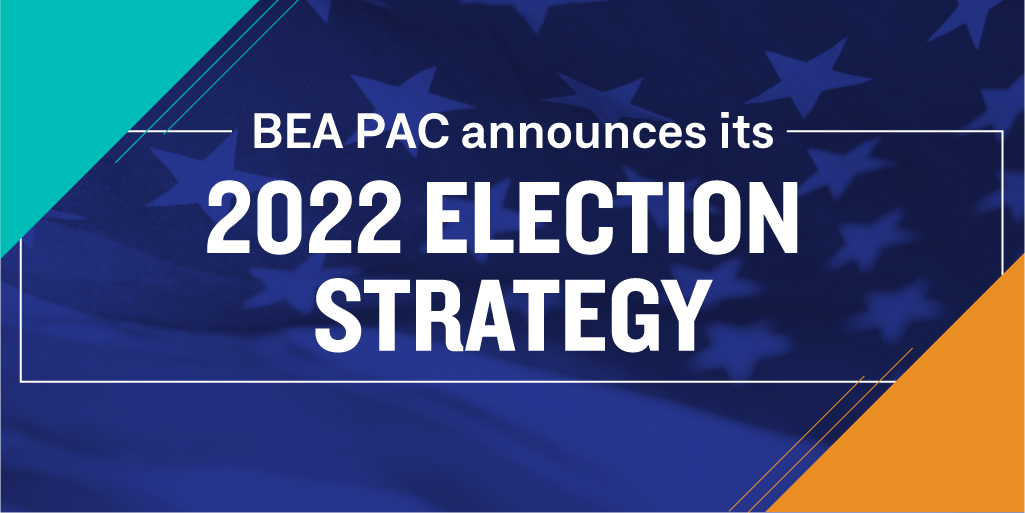 FOR IMMEDIATE RELEASE
Media Contacts
Stephanie Báez
sbaez@globalstrategygroup.com
Victoria Dellacava
vdellacava@globalstrategygroup.com
The PAC's 2022 strategy will include support for down-ballot candidates to safeguard American democracy and mobilize Black voter turnout this year and in future elections
WASHINGTON, D.C. – (July 19, 2022) Today, the Black Economic Alliance PAC (BEA PAC), a nonpartisan group of Black business leaders that supports candidates who prioritize improving economic conditions for Black people, announced its 2022 election strategy to bolster the infrastructure for Black economic and voter mobility in an effort to strengthen American democracy this year, in the 2024 Election, and beyond.
For the first time, the BEA PAC's 2022 strategy will include endorsements for down-ballot races, including candidates running for secretary of state, attorney general, and lieutenant governor, in addition to its typical slate of endorsements for U.S. House and Senate seats as well as governors. Expanding support to down-ballot races is in direct response to restrictive voting measures and election interference following the 2020 General Election, as individuals who hold those positions are charged with ensuring election integrity, upholding the rule of law, and have authority to impact economic opportunity.
In line with its mission to create a more inclusive economy and representative democracy, the BEA PAC will endorse candidates who will be unabashed champions of Black wealth building and implement the will of the people. To determine which candidates it will support, the BEA PAC uses a point-based system to assess an applicant's ideology, representational demographics, and commitment to the BEA PAC's goals.
"Because we believe a strong economy depends on a strong democracy, the BEA PAC is supporting candidates up and down the ballot who respect and will secure every American's right to vote, particularly where Black voters can make the difference," said former Massachusetts governor and BEA board member Deval Patrick. "Closing stubborn income and wealth gaps in America requires the better policies that come from truly representative government."
"In 2022, the BEA PAC is focused on building more robust infrastructure to mobilize Black voters and drive Black economic mobility—this year, in 2024, and beyond," said David Clunie, Executive Director, Black Economic Alliance. "The threat to lose or diminish the Black vote, and indeed American democracy, is real and imminent. The BEA PAC is harnessing the resources of Black business leaders to place elected leaders in office who will prioritize strengthening our democracy and creating more pathways for Black people to build wealth."
The BEA PAC aims to reach 10 million new voters this election cycle, including those who voted for the first time in 2020 and voters who aren't typically engaged outside of presidential election years. According to the Center for Information & Research on Civic Learning and Engagement, there are around 8.3 million newly eligible young voters who have turned 18 since 2020 and are eligible to vote in the 2022 elections. Specifically, the BEA PAC will focus its resources and investments in states where Black voters have the potential to shape election outcomes and where legislation or measures have been intentionally implemented to obstruct Black voter turnout and silence their political voices. Those states include Georgia, Pennsylvania, Michigan, Wisconsin, and North Carolina, among others.
The influence and power of Black voters have directly impacted election turnouts across the country, especially in battleground states. According to exit polls from the 2020 General Election, Black Americans represented over 50% of all Democratic voters in Georgia, 20% of all Democratic voters in Michigan, and 21% of all Democratic voters in Pennsylvania. And as BEA-commissioned research from 2020 shows, when Black voters are made aware of their potential impact, they are more likely to turn out to vote.
Since its launch in 2018, the BEA PAC has endorsed candidates across presidential, congressional, and gubernatorial races who have been elected to office, resulting in a successful effort to improve the infrastructure for voter and economic mobility for Black Americans. Following the election of the BEA PAC's endorsed candidates, BEA has worked to hold these representatives and other government leaders accountable by championing key policy initiatives, advocating for increased Black representation throughout all levels of government and across the political spectrum, and contributing to solution-oriented policy conversations on economic empowerment for the Black community.
In addition to endorsements of select candidates in target states, the BEA PAC is working with Black-led organizers, groups, and strategists to improve the effectiveness of Black voter engagement and turnout, leveraging initiatives such as National Black Voter Day. Initially launched in 2020, National Black Voter Day is an annual multi-organization campaign to catalyze Black voter registration and turnout from the first day of early voting through Election Day.
The BEA PAC will release its candidate endorsements throughout the summer of 2022.
###
About the Black Economic Alliance PAC
Black Economic Alliance PAC is a coalition of business leaders and aligned advocates committed to economic progress and prosperity in the Black community with a specific focus on work, wages, and wealth. We are using our collective power and business acumen to advance candidates and policies that can and will create economic empowerment in the Black community. | https://pac.blackeconomicalliance.org/