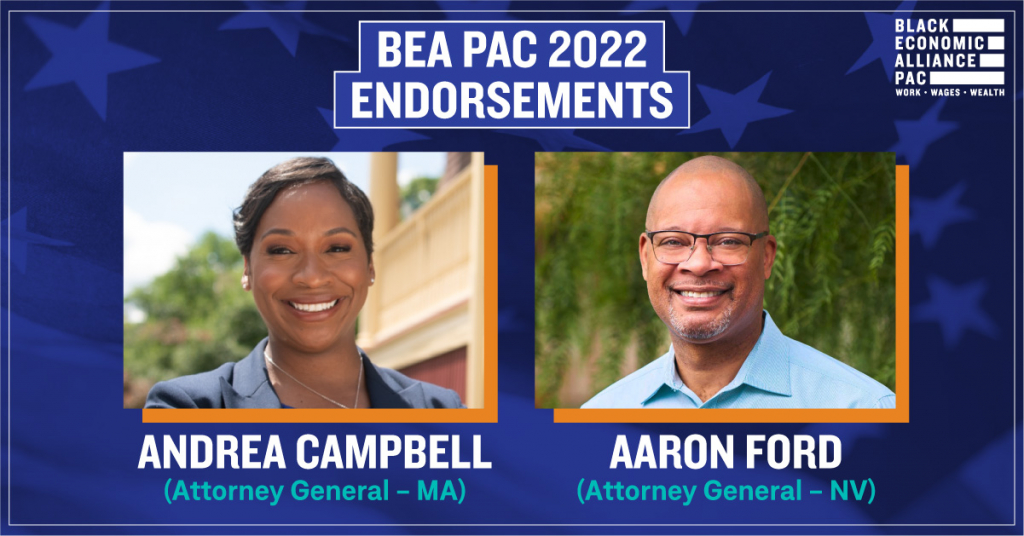 The BEA PAC is endorsing candidates for attorney general who are committed to advancing BEA's mission of improving work, wages, and wealth for Black Americans
WASHINGTON, D.C. (October 28, 2022) – Today, the Black Economic Alliance PAC (BEA PAC), a nonpartisan group of Black business leaders that supports candidates who prioritize improving economic conditions for Black people, endorsed Nevada Attorney General Aaron Ford for re-election and Andrea Campbell for Attorney General in Massachusetts.
"Aaron Ford and Andrea Campbell are exemplary leaders with strong records of promoting an inclusive economy and democracy," said David Clunie, Executive Director, Black Economic Alliance. "These two candidates bring the lived and professional experience necessary to leverage the platform of state attorney general to expand opportunity for every person, family, business, and community they represent to have a fair chance at achieving economic prosperity."
Upon his election in 2018, Aaron Ford became Nevada's 34th Attorney General and the first Black elected official to hold statewide constitutional office in Nevada. His priorities include protecting constitutional rights, criminal justice reform, consumer protection, client service, and community engagement. A former Nevada state senator, Ford served as both the Majority Leader and the Minority Leader in the Nevada State Legislature. Before becoming a public servant, Ford spent several years practicing law and began his career as a public school math teacher.
Andrea Campbell embodies the type of social and economic mobility the Black Economic Alliance is working to make possible for every American. Campbell persevered through significant adversity her family faced involving the criminal justice system and economic challenges, working her way through college and law school to become an accomplished attorney with invaluable experience. After practicing law, including as an employment attorney and as counsel to Massachusetts Governor Deval Patrick, Campbell successfully became the first woman to represent her district in the Boston City Council. As a City Councilmember, Campbell introduced and championed the Community Preservation Act, legislation that still generates over $20 million annually for new affordable housing, historic preservation, parks, and open space. In 2018, she was unanimously elected to serve as City Council President – the first Black woman to hold the title.
In the 2022 election cycle, the BEA PAC is focused on building a robust infrastructure for Black economic and voter mobility in an effort to strengthen American democracy in 2024 and beyond by supporting down-ballot candidates running for statewide positions like lieutenant governor, secretary of state, and attorney general in addition to U.S. House, Senate, and gubernatorial candidates. The BEA PAC has expanded its scope to support down-ballot races because these positions hold the authority to broaden or restrict access to economic opportunity and are also charged with ensuring election integrity. The PAC is focusing its support and resources on candidates in highly competitive races where Black voter turnout will have a significant impact on the outcome of the race.
###
About the Black Economic Alliance PAC
Black Economic Alliance PAC is a coalition of business leaders and aligned advocates committed to economic progress and prosperity in the Black community with a specific focus on work, wages, and wealth. We are using our collective power and business acumen to advance candidates and policies that can and will create economic empowerment in the Black community. If you'd like to support BEA PAC's advocacy for Black economic progress and support candidates for office who are committed to improving work, wages, and wealth for Black Americans, click here. |https://pac.blackeconomicalliance.org/