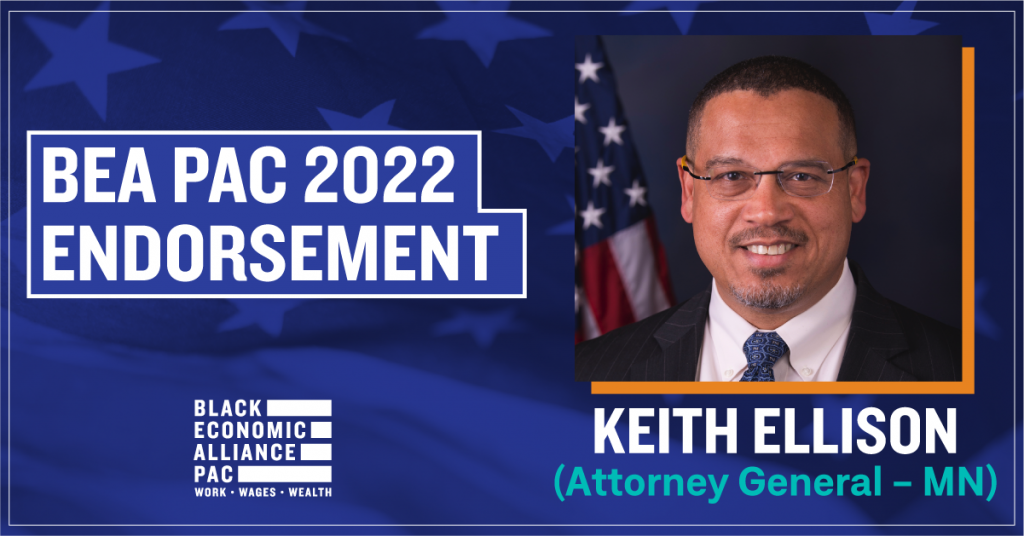 Keith Ellison has a strong record of promoting an inclusive economy and democracy and will be an impactful leader to further the BEA's mission to improve work, wages, and wealth for Black Americans
WASHINGTON, D.C. (October 5, 2022) – Today, the Black Economic Alliance PAC (BEA PAC), a nonpartisan group of Black business leaders that supports candidates who prioritize improving economic conditions for Black people, endorsed Minnesota Attorney General Keith Ellison for re-election.
"Attorney General Ellison is a proven leader with a consistent track record of advancing the economic and civil rights interests of every Minnesotan and American," said David Clunie, Executive Director, Black Economic Alliance. "Through his leadership successfully prosecuting those responsible for George Floyd's murder to launching a task force to improve the economic security of women in Minnesota, Attorney General Ellison has been an exemplary leader upholding the rule of law and expanding opportunity in Minnesota. The BEA PAC is proud to support a candidate who prioritizes accountability, inclusion, and economic prosperity for all."
Elected in 2006 to represent Minnesota's 5th Congressional District, which includes Minneapolis, Ellison became the first Muslim to serve in Congress. During his time as a U.S. Representative, he worked to make the American financial system more inclusive and close the racial wealth gap from his seat on the House Financial Services Committee. In 2018, Ellison made history again by becoming the first Black Attorney General in Minnesota, where he continues to promote economic opportunity, inclusion, and transparency throughout the state.
In the 2022 election cycle, the BEA PAC is focused on building a robust infrastructure for Black economic and voter mobility in an effort to strengthen American democracy in 2024 and beyond by supporting down-ballot candidates running for statewide positions like lieutenant governor, secretary of state, and attorney general in addition to U.S. House, Senate, and gubernatorial candidates. The BEA PAC has expanded its scope to support down-ballot races because these positions hold the authority to broaden or restrict access to economic opportunity and are also charged with ensuring election integrity. The PAC is focusing its support and resources on candidates in highly competitive races where Black voter turnout will have a significant impact on the outcome of the race.
###
About the Black Economic Alliance PAC
Black Economic Alliance PAC is a coalition of business leaders and aligned advocates committed to economic progress and prosperity in the Black community with a specific focus on work, wages, and wealth. We are using our collective power and business acumen to advance candidates and policies that can and will create economic empowerment in the Black community. If you'd like to support BEA PAC's advocacy for Black economic progress and support candidates for office who are committed to improving work, wages, and wealth for Black Americans, click here. |https://pac.blackeconomicalliance.org/