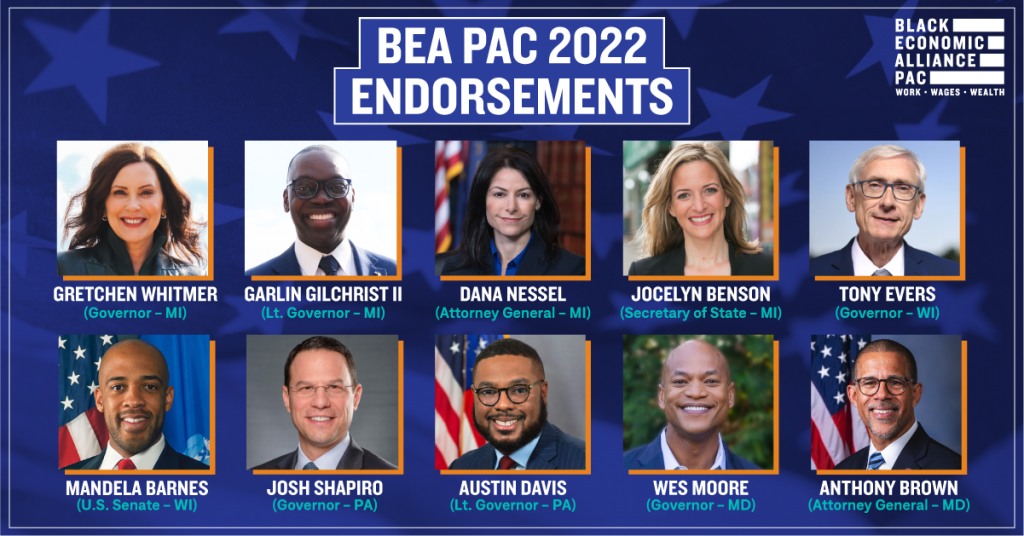 FOR IMMEDIATE RELEASE
Media Contacts
Stephanie Báez
sbaez@globalstrategygroup.com
Victoria Dellacava
vdellacava@globalstrategygroup.com
The BEA PAC is backing more candidates prioritizing work, wages, and wealth for Black Americans
WASHINGTON, D.C. – (August 12, 2022) Today, the Black Economic Alliance PAC (BEA PAC), a nonpartisan group of Black business leaders that supports candidates who prioritize improving economic conditions for Black people, is excited to endorse a slate of candidates running for office in Michigan, Wisconsin, Pennsylvania, and Maryland who will advance equitable access to better work, wages, and wealth for Black Americans and ensure the fairness and integrity of future elections.
In Michigan, the BEA PAC is re-endorsing Gretchen Whitmer for Governor and Garlin Gilchrist II for Lieutenant Governor, and for the first time, is endorsing Jocelyn Benson for Secretary of State and Dana Nessel for Attorney General. In Wisconsin, the PAC has endorsed Mandela Barnes for U.S. Senate and Tony Evers for Governor. In Pennsylvania, the PAC supports Josh Shapiro for Governor and Austin Davis for Lieutenant Governor. And in Maryland, the PAC has endorsed former BEA Board member Wes Moore for Governor and Anthony Brown for Attorney General.
Wes Moore, who previously served as a BEA Board member, is running on a platform to improve economic conditions for Black Marylanders that mirrors BEA's mission of improving work, wages, and wealth for Black Americans.
"The BEA PAC is excited to support candidates who will be proactive and innovative in creating new economic infrastructure to close the racial income and wealth gaps," said David Clunie, Executive Director, Black Economic Alliance. "These chosen candidates for Governor, Lieutenant Governor, Attorney General, and Secretary of State exhibit the level of dedication and integrity necessary to create a more inclusive, resilient democracy and economy."
According to exit polls from the 2020 General Election, Black Americans represented over 28% of all Democratic voters in Maryland, 20% of all Democratic voters in Michigan, and 21% of all Democratic voters in Pennsylvania. If elected to office, the BEA PAC's endorsed candidates will help safeguard access to the ballot box so all eligible voters have equal access to elect government leaders who will represent their interests.
This year, the BEA PAC is focused on building a robust infrastructure for Black economic and voter mobility in an effort to strengthen American democracy this year, in 2024, and beyond by supporting down-ballot candidates running for statewide positions like lieutenant governor, secretary of state, and attorney general. The BEA PAC has expanded its scope to support down-ballot races because these positions hold the authority to broaden or restrict access to economic opportunity and are also charged with ensuring election integrity. The PAC is focusing its support and resources on candidates in highly competitive races where Black voter turnout will have a significant impact on the outcome of the race, such as in Georgia, Pennsylvania, North Carolina, Maryland, Michigan, and Wisconsin.
###
About the Black Economic Alliance PAC
Black Economic Alliance PAC is a coalition of business leaders and aligned advocates committed to economic progress and prosperity in the Black community with a specific focus on work, wages, and wealth. We are using our collective power and business acumen to advance candidates and policies that can and will create economic empowerment in the Black community. If you'd like to support BEA PAC's advocacy for Black economic progress and support candidates for office who are committed to improving work, wages, and wealth for Black Americans, click here.| https://pac.blackeconomicalliance.org/