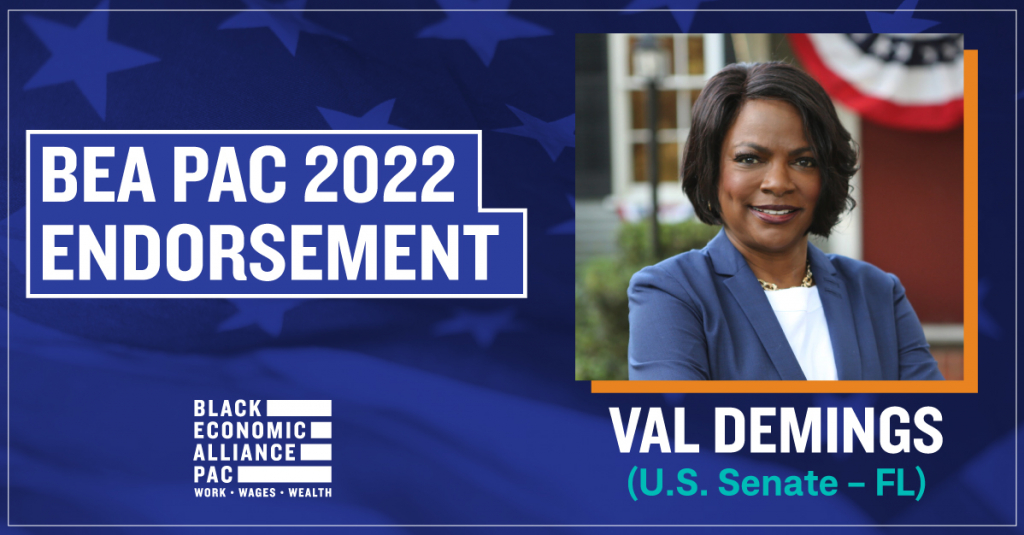 Val Demings' dedication to a more inclusive economy and democracy aligns with the BEA PAC's mission to improve work, wages, and wealth for Black Americans
WASHINGTON, D.C. – (September 23, 2022) Today, the Black Economic Alliance PAC (BEA PAC), a nonpartisan group of Black business leaders that supports candidates who prioritize improving economic conditions for Black people, is excited to endorse Congresswoman Val Demings for U.S. Senate representing Florida.
"Congresswoman Demings has exhibited exceptional leadership through her distinguished career of public service," said David Clunie, Executive Director, Black Economic Alliance. "Her lived and professional experience make Val Demings uniquely capable to create better infrastructure for full Black participation in America's democracy and economy. The BEA PAC is honored to lend our support to such an exemplary American who personifies what our elected leaders can and should be."
"I'm honored to receive the Black Economic Alliance PAC's endorsement for U.S. Senate," said U.S. Rep. Val Demings (FL-10). "I strongly believe in the BEA PAC's mission to improve work, wages, and wealth for Black Americans; and if elected to the U.S. Senate, I will continue to dedicate my career in public service to creating a truly inclusive economy and democracy that empower all Americans."
From being the first woman to serve as Orlando's Chief of Police after over 25 years on the police force to representing the voters of Florida's 10th Congressional District since 2017, Congresswoman Demings' lifelong dedication to public service, safety, and economic opportunity for Black Floridians makes her a unique and important voice for the U.S. Senate. If elected, Congresswoman Demings would become Florida's first ever Black Senator and would help fill the void of no Black women serving in the U.S. Senate today.
This year, the BEA PAC is focused on building a robust infrastructure for Black economic and voter mobility in an effort to strengthen American democracy, in 2024, and beyond by supporting down-ballot candidates running for statewide positions like lieutenant governor, secretary of state, and attorney general. The BEA PAC has expanded its scope to support down-ballot races because these positions hold the authority to broaden or restrict access to economic opportunity and are also charged with ensuring election integrity. The PAC is focusing its support and resources on candidates in highly competitive races where Black voter turnout will have a significant impact on the outcome of the race.
###
About the Black Economic Alliance PAC
Black Economic Alliance PAC is a coalition of business leaders and aligned advocates committed to economic progress and prosperity in the Black community with a specific focus on work, wages, and wealth. We are using our collective power and business acumen to advance candidates and policies that can and will create economic empowerment in the Black community. If you'd like to support BEA PAC's advocacy for Black economic progress and support candidates for office who are committed to improving work, wages, and wealth for Black Americans, click here.| https://pac.blackeconomicalliance.org/