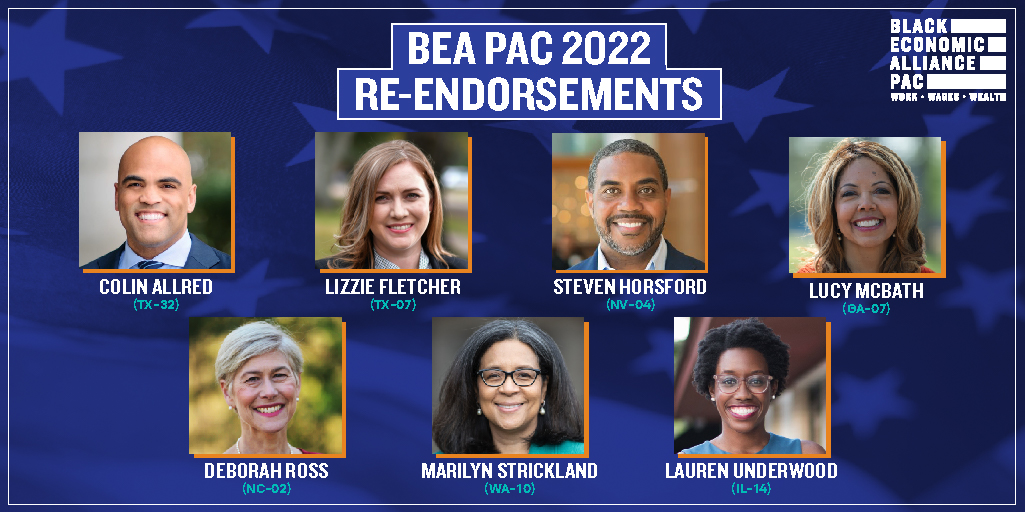 FOR IMMEDIATE RELEASE
Media Contacts
Stephanie Báez
sbaez@globalstrategygroup.com
Victoria Dellacava
vdellacava@globalstrategygroup.com
The BEA PAC is proud to continue its support for several incumbents and a promising new candidate for Senate who will help improve work, wages, and wealth for Black Americans

WASHINGTON, D.C. – (July 28, 2022) Today, the Black Economic Alliance PAC (BEA PAC), a nonpartisan group of Black business leaders that supports candidates who prioritize improving economic conditions for Black people, has re-endorsed seven members of the U.S. House of Representatives who have effectively championed policies that improve economic mobility in the Black community, particularly in the BEA PAC's priority areas of work, wages, and wealth. Those incumbent candidates include Colin Allred (TX-32), Lizzie Fletcher (TX-07), Steven Horsford (NV-04), Lucy McBath (GA-07), Deborah Ross (NC-02), Marilyn Strickland (WA-10), and Lauren Underwood (IL-14). The BEA PAC has also endorsed Cheri Beasley, who would be the first Black woman to serve as U.S. Senator from North Carolina if elected.
"The BEA PAC is proud to re-endorse these candidates who have proven their commitment to do the hard work necessary to close the persistent racial wealth and income gaps and support our focus on work, wages, and wealth for Black Americans," said David Clunie, Executive Director, Black Economic Alliance. "It is critical to have decisionmakers who represent the interests of all of the American people, and Cheri Beasley will help add the conspicuously absent perspective of a Black woman to the important work of the U.S. Senate."
In addition to lending its support to Congressional candidates, the BEA PAC is working to build a robust infrastructure for Black economic and voter mobility in an effort to strengthen American democracy this year, in 2024, and beyond. Last week, the PAC announced that it would also begin supporting down-ballot candidates running for statewide positions like lieutenant governor, secretary of state, and attorney general. BEA PAC has expanded its scope to support down-ballot races because these positions hold authority to broaden or restrict access to economic opportunity and are also charged with ensuring election integrity. The PAC is focusing its support and resources on candidates in highly competitive races where Black voter turnout will have a significant impact on the outcome of the race, such as Georgia, Pennsylvania, North Carolina, Maryland, Michigan, and Wisconsin.
###
About the Black Economic Alliance PAC
Black Economic Alliance PAC is a coalition of business leaders and aligned advocates committed to economic progress and prosperity in the Black community with a specific focus on work, wages, and wealth. We are using our collective power and business acumen to advance candidates and policies that can and will create economic empowerment in the Black community. If you'd like to support BEA PAC's advocacy for Black economic progress and support candidates for office who are committed to improving work, wages, and wealth for Black Americans, click here.| https://pac.blackeconomicalliance.org/